Earlier this week in an interview with Aaron Task from Yahoo Finance, former President Bill Clinton stated, "…the American Dream has been under assault for 30 years,". The timing of his quote coincides very well with the topic of my blog discussing the rising costs of higher education. This post is designed to help give you some information and data that needs to be considered when evaluating your goals for education.
Most of us see a college education as a crucial tool in helping us fulfill our own vision of the American Dream. We also see a college education as a way to help our children achieve their own dreams. The importance placed on having a college education has also left us with learning how to handle the uncertainty of tuition increases over the past thirty years. We've seen dramatic changes in the cost of attending college over this thirty-year period. From my own experience, in the seven years since I graduated from Texas Tech University tuition has increased by 50%. In the three and a half years that I was at Texas Tech, tuition increased by 68%. These are rapid changes to the cost of college, and we have limited options in how we can absorb these rapid cost increases. As a financial planner, it's important for me to understand these changes and use the relevant data to help me assist my clients with their goals.
I've spent that last few days researching and analyzing historical tuition data for North Carolina State University (NC State), Texas Tech University and Duke University. I'll warn you that the results of these data may seem overwhelming, but it's important to understand what the historical changes in tuition costs have been as we go through the college planning process.
This first set of data relates to the total percentage change in college tuition during three different time periods. The first time period is the 1981-'82 academic year through academic year 2011-'12. This data point was examined so that I could have a 30 year history of tuition changes and gain a long term perspective on tuition increases. The next period is the academic years 1994-'95 through 2011-'12; this time period represents the increase in tuition costs for an 18 year old who is part of the incoming freshman class of 2011. The final academic time period is 2008-'09 through 2011-'12, and this represents the change in tuition that has occurred for the graduating seniors in May 2012 (assuming a four year undergraduate curriculum). Chart 1 reflects the total percentage change for the three universities during these time periods. Graph 1 highlights the changing values of tuition at Texas Tech and NC State, while Graph 2 shows the changing tuition values at Duke and Stanford.
University

Total % Change

'80/'81 – '11/'12

Total % Change

'94/'95 – '11/'12

Total % Change

'08/'09 – '11/'12

NC State

1,104%

343%

33%

Texas Tech

1,982%

385%

29%

Duke

903%

154%

5%
Chart 1: Percentage change in tuition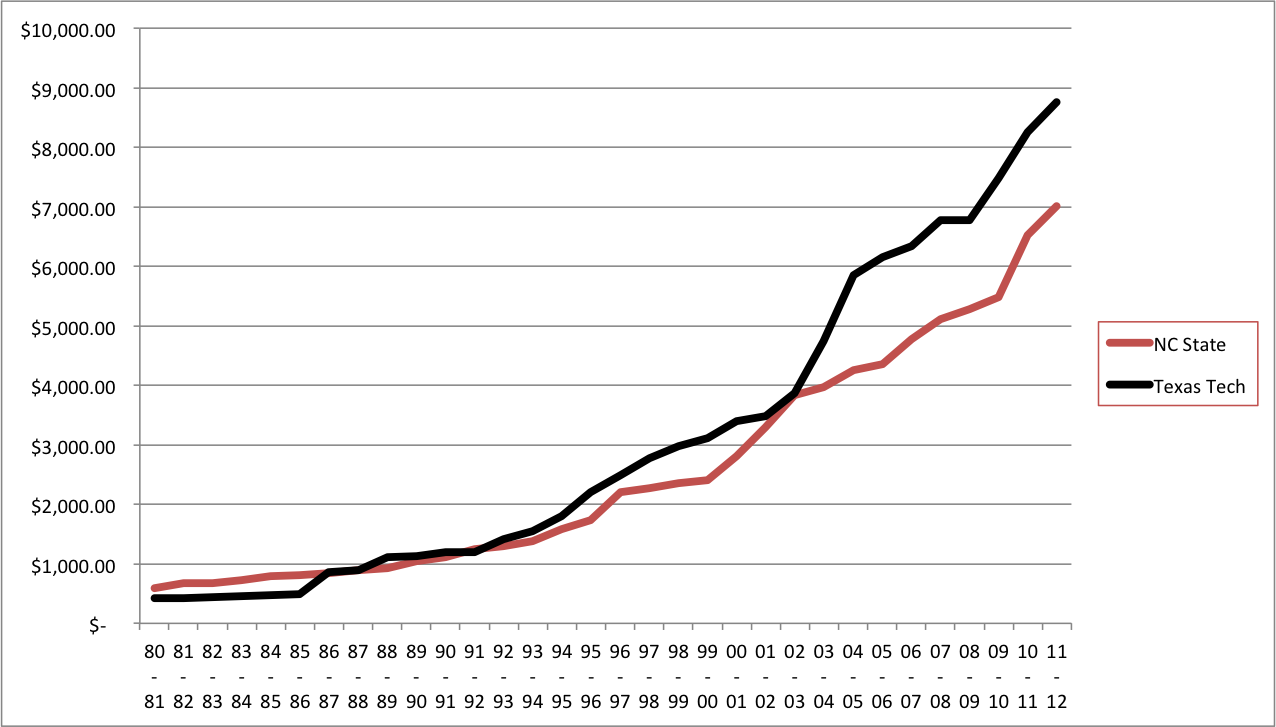 Graph 1: Change in Tuition at NC State and Texas Tech University since 1980-'81 to 2011-'12

Graph 2: Change in Tuition at Duke University and Stanford University since 1980-'81 to 2011-'12
After I calculated these rather striking numbers, I then calculated the percentage change from year-to-year using the 1981-'82 academic year as my starting point. Once I calculated the percentage change in tuition from year-to-year, I took a simple arithmetic average to calculate the average annual percentage change for these three periods of time. This helped to bring these numbers into perspective. If we know the average annual increase in tuition, we will have a better idea of what the targeted annual return for education accounts will need to be. Chart 2 details the average annual percentage change for the three universities.
University

Avg. Annual % Change

'80/'81 – '11/'12

Avg. Annual % Change

'94/'95 – '11/'12

Avg. Annual % Change

'08/'09 – '11/'12

NC State

9%

9%

10%

Texas Tech

11%

10%

9%

Duke

6%

5%

5%
Chart 2: Average annual percentage change in tuition
The striking thing to me about these results is that the 30 year average annual return is relatively close to the two other time horizons. Since we have the average annual rate of  increase in tuition, we can see for a public university the education account would need to average an annual return between 9% and 10% to keep up with an average level of tuition hikes. I would consider this to be a very aggressive target to maintain, especially since we've seen a high level of market volatility impacting investment returns since 2008. Depending on your own experiences and risk tolerance, you may not feel comfortable with this much risk in the education savings for your children. If you want to be more conservative in how this money is invested, you'll need to plan for a higher monthly savings goal.
How much will you need to save to fund four years at a public university? This is going to depend on how old your children are and if there is any current savings you or family members have set aside for college. For a newborn, lets assume a 9% annual increase in tuition for the next 22 years (18 years until college, 4 years in college) the estimated total cost of tuition and fees for four years at NC State would be $151,400 and the estimated four year total for tuition and fees at Texas Tech would be $189,100. This is a steep investment in your child's education, and I'm currently only using tuition and fees in this example. Additional savings would be needed to cover text books, housing, food, clothes and all the other expenses that fall into a college lifestyle.
Now that you have the total estimated cost for tuition and fees, let's break it down into the monthly amount of savings needed to save the total tuition cost by the time your child turns 18.  I've provided three different scenarios to show the impact savings and investing would have on the saving's goal. The first scenario is if you didn't earn any return on your savings. The second is if you saved in an account that generated an average annual return of 1% and the final scenario is if you invested the monthly savings in an account that averaged an annual return of 5%. This also assumes that you start saving the month your child is born. Chart 3 shows the necessary monthly savings needed to reach this goal based on the three variable different return scenarios.
| | | | |
| --- | --- | --- | --- |
| University | Monthly Savings with 0% Avg. Annual Return | Monthly Savings with 1% Avg. Annual Return | Monthly Savings with 5% Avg. Annual Return |
| NC State | $701 | $640 | $434 |
| Texas Tech | $876 | $800 | $542 |
Chart 3: The monthly savings required based on three different assumed average annual returns.
As you can see, the impact of the return on your investments will certainly factor into the amount needed to save to cover four years of college. Another factor will be as your children get closer to college age, the account would probably be invested more conservatively to help limit the impact of a major market downturn before your child gets ready to attend college.
Hopefully, you're still with me and not feeling financially doomed. I would like to think that we'll reach a level where tuition will flatten out and we will no longer see these continual tuition hikes. I feel that as a member of the financial planning industry, I need to be doing more to research the underlying issue of why tuition keeps increasing and helping to find solutions and alternatives to alleviate this trend of ever-rising tuition. I certainly don't want to see that the ability families to send their children to college is out of reach and I'll be doing my best to provide insightful and meaningful research and solutions to this conversation.
I'm hoping that in the coming months as I do further research, I'll be able to provide you additional information on what is contributing to the ever-increasing cost of college. I can tell you currently, we see part of the tuition hikes needed as state legislatures reduce funding for higher education. We've also seen the expansion of campus construction for new academic buildings, athletic complexes and parking garages factor into the increasing costs of running a university, and this is more than likely contributing to tuition increases as well.
If you find yourself needing some guidance on developing your education goals and savings strategy, pick up the phone and call me at 919.695.3007 so we can have a frank discussion of where you are today financially and how I may be able to help you and your family reach your education goals.